There has been a request submitted to the City of Grand Rapids to rezone some of the property at 2420 Coit Ave. NE (Riverside Elementary).  Included in the request is also a plans for an 8,000 sq feet expansion and parking lot reconfiguration.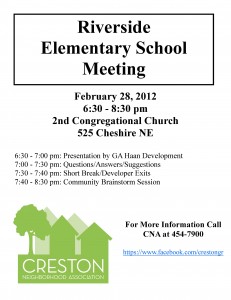 Please look below regarding the work done on this issue so far:
The Plan:
The developer is GA Haan Development. The facility management company is Capital Health Group. With an 8,000 square foot addition the facility will include 45-50 residential rooms, a kitchen, dining facility, lounge and reception area.
An existing parking lot will stay, the playground will be removed and an additional parking lot will be added to the east of the building off Oakwood street.
Facility staff and the tenants will use the parking facilities. Some seniors will be independent enough to drive, other may use a bus. (The nearest bus stop will be on Coit) Seniors living in the units will not own the units. Seniors living here will not necessarily be low-income or middle class. Neither the developer, facilities Management Company or the City of GR can discriminate based on income.
Because this is an assisted living facility status of care is on a scale of 1-5; one for those needing the least amount of care and five for those needing the most. Anyone needing more than level 5 care would be moved to a nursing home.
Most likely service deliveries will be made by panel truck to an existing delivery area.
An occasional ambulance may also service the area. Zoning requires the new use to include at least 30% of green space; even with the new addition the developer will exceed that minimum requirement with 68% of the land remaining green.
Proposed plans include storm water mitigation.
Neighbor Concerns:
(in random order)
Has the market study showed a need for additional senior housing in this area?
Will jobs created be living wage or minimum wage jobs?
Loss of a playground
Loss of connecting pathways/sidewalks
Lighting, parking, traffic
Loss of green space with addition & parking lot
Car lights (employees & residents)
Facility management issues
Property value decline
Sets precedence for the middle school building should GRPS sell it as well
What about future needs and expansion?
Long term consequences
Other uses have not yet been explored
Is it possible known sex offenders will live here? (there's a school next door)
Decision by the Planning Commission on February 9, 2012
:
Zoning Change – passed unanimously by the commission (this zoning change stays with the property)
The Special Land Use Permit – tabled to allow CNA time to organize residents and developer to further discuss the matter
Next Planning Commission Hearing with Haan on the Agenda – March 8